-Fateh Singh-
Who is not interested in girls? Mesmerizing eyes, pouty lips, heart melting smiles, few have overly cared others have free hairs, enigmatic curves; everything seems like the magic of nature or I must say 'conspiracy of nature.' Sometime we stumble upon such a beauty that when we go beyond her outer beauty we find a beautiful soul inside. That makes us feel like dedicating our whole life to her. Actually, nature had purposely created two different kinds of human beings, so that both can get attracted towards each other and keep her cycle rolling without fail.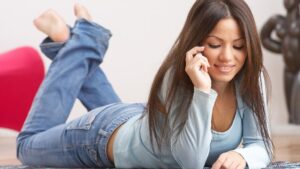 See how enigmatic is the game of nature; a girl went across the border, met someone and decided to remain there forever. You can make as many stories as you want, but you can't deny the interference of nature. Similaraly, I am just a small speck in this huge design of nature. Even if I am a rotten piece of Iron, but how can I deny the pull of the magnet. And the social media is flooded with the magnetic charm. Here, sometimes it becomes impossible to filter that which charm is about sixteen or sixty. And heart never grows up 'dil to bacha hai ji', walks a little, and trips a lot.
This reminds me about a 'chick', which suddenly started calling me on Messenger a few years back. Like any guy I would enjoy her endless sweet talking with small breaks to appreciate her and share a few of my own ideas. She would shower the entire ocean of praises on me. One day she asked me about my age and when I revealed the number, surprisingly, she said, "Kake (lad), You are too young" and disconnected. She never called back again.
However, I have a bug in my mind which is sitting right in the entrance of the nerve connecting with the heart. And this bug says that it won't let me like or comment on the Selfies and posed photographs posted by the girls here. Those get overloaded with reactions as few of the creatures could not stop drooling over them thinking the door of fairyland has been closed and she is only one left out. But that doesn't mean that I don't like them or I don't feel like reacting to them. Contrarily sometimes my heart just wants to bang the Love button at least for 100 times. But sometimes even after having the strongest urge to react, that bug overpowers me and I take years to react. When this urge to interact with one such beauty overpowers the bug, I just resort to ping her privately. I might make a weird pickup line like, "I was wondering to share few pleasantries with you, but was unable to find any pretext. I don't have one yet either, so I thought that I should ask you what should be the best pretext to praise you, please suggest."
Sometimes this moves the conversation and sometimes she might be thinking, 'How to handle one more creeper." But mostly what I get to hear is, "I really wanted to talk to you, but your posts are so aggressive; I had feared that you would get mad upon me." Usually I can't decide whether I should laugh or scowl at me. Sheepishly, I would say, 'Perhaps, if you would have moved the talk, till now, I might have been mad about you!'
Not that my heart slobbers for each one here. I can't handle those self-proclaimed poetess's who are stuck on the idea of 'spring is here, where are you' since last twenty years. I could never understand for whom they are waiting for? Later I would learn that they have no coziness at all, neither at home nor outside. Those are the sycophants in search for their own sycophants. When someone comments 'beautiful (or hot)' on their filtered pictures, they would reply with a big heart and a wink emoticon.
The point is, it's all about the connection, when the frequency of hearts matches, all ages turns sweet sixteen-
When heart melts like crust
It takes the shape of trust
It takes a will to start
then nothing can thwart
All you need the courage to present your heart on your palm, who knows when you get the benefactor. In any case we will learn to love ourselves in the end.
The fact is that in this era the character certificates of most of the 'MEN' are stored in the inbox of girls. This can be claimed for girls too, although this claim may be attributed as uncivilized.
Commendable are the girls for safeguarding the honour of infinite boys.
Moreover, this is the era of women's freedom, and also the era of extreme atrocities against women. Perhaps this extremity is perpetuating out of the paradox of freedom struggle.
Whatever it is, let the love remain love, don't make it a rape, true or false…!